#19 United States, 1862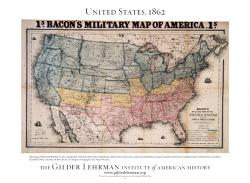 Poster Caption: This map of the United States in 1862, amidst the Civil War, shows the Confederate states in pink, the Union states and territories in green, and the border slave-holding states and territories in yellow.
These posters are 22" x 30", full color, and printed on a semi-gloss ivory stock. Each one features a caption that places the image in historical context.