The Many Faces of George Washington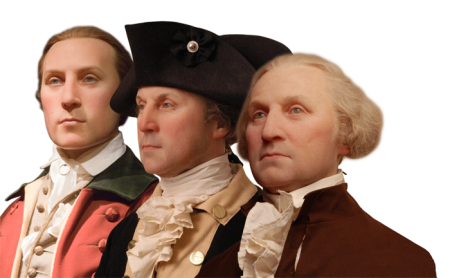 ---
The Many Faces of George Washington provides background and insight into our nation's first president, a man whom many recognize but few know much about. Spanning Washington's entire life, the exhibition focuses on the traits that made him a beloved leader and the choices that helped establish a stable democratic government. The exhibition looks at Washington's leadership in the exhibition's seven sections: Virginia Childhood, Risk Taker, Realistic Visionary, Wise Decision Maker, Impassioned Learner, Visionary Entrepreneur, and At Home at Mount Vernon.
Using interpretive and educational materials, the exhibition examines the multi-dimensional, real-life man behind the myth. Produced by George Washington's home, Mount Vernon, in conjunction with the Gilder Lehrman Institute of American History, this exhibition presents the many different facets of Washington's leadership through dazzling color graphics of paintings, photographs, and iconic objects from the Mount Vernon collections.
The exhibition has been made possible by a generous grant from the F. M. Kirby Foundation. Exhibition materials are drawn from the Mount Vernon Collections.
Supplementary Materials
Site Resource Notebook
Color brochures
George Washington timeline poster and related teacher lesson plan/ resource guide is available upon request
A pdf version of a promotional poster
The exhibition is composed of seven freestanding sections. Each section has eight panels; two high and four across. When opened, each panel is approximately 80 inches high and 120 inches long. The total running length is 50–80 feet depending on the formation. The loan period for this exhibition is up to six weeks.
For more information, contact Stephanie Krom or call (646) 366-9666, ext. 17. To request The Many Faces of George Washington, please complete our online Application Form.