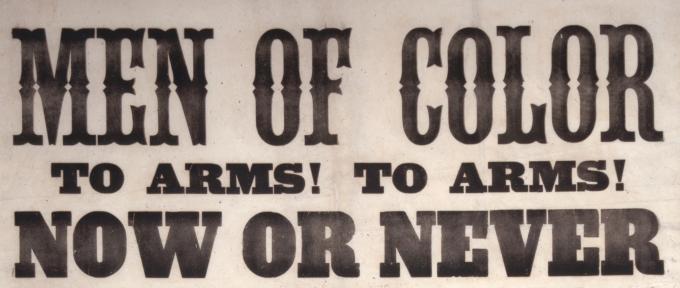 ---
The Frederick Douglass exhibition explores slavery and abolition through the life of one of the most famous men in nineteenth-century America. As a young boy, Douglass experienced the horrors of life under slavery in the United States. At age seven, Douglass was sent to Baltimore to live in the house of his new master, Hugh Auld, where he learned to read. The knowledge gained through reading nurtured both a dream of freedom and a keen feeling of despair at the difficulty of escape. In September 1838, Douglass disguised himself as a free seaman and then traveled to New York City. Though free, Douglass remained a fugitive under the law until friends purchased his liberty. This exhibition explores his life under slavery, in Douglass' own words, and his escape to freedom.
This panel exhibition uses images, broadsides and letters to explore the early life of Douglass. Born a slave in Maryland, he made a daring escape to New York City in 1838. Once free, Douglass fought to end slavery and championed civil rights for all Americans. Among the highlights are: a broadside entitled Slave Market of America from the American Anti-Slavery Society, excerpts and quotes from Douglass' autobiography Narrative of the Life of Frederick Douglass, an American slave, and a letter from Douglass to Hugh Auld, his former slave-owner.
Exhibition materials are drawn in large part from the Gilder Lehrman Collection. The exhibition has been made possible by a grant from the J.P. Morgan Foundation, with the cooperation of the National Underground Railroad Freedom Center, Cincinnati, Ohio.
Supplementary Materials
Site Resource Notebook
Educator's Guide, including excerpts from Douglass' work and outlines for student discussion
Color brochures which summarize the exhibition content and present a brief bibliography for visitors to explore the subject further
The traveling exhibition is composed of four panels. It will require 8–10 running feet. The loan period for this exhibition is four weeks.
For more information, email Stephanie Krom or call (646) 366-9666, ext. 17. To request Frederick Douglass, please complete our online Application Form.