Alexander Hamilton: The Man Who Made Modern America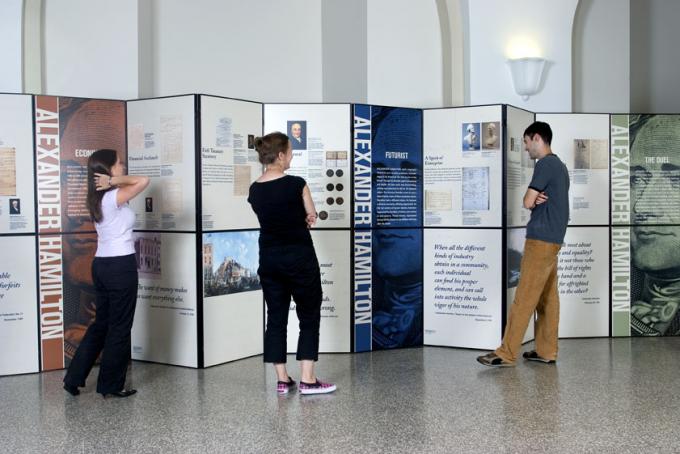 ---
Alexander Hamilton: The Man Who Made Modern America is based on a major exhibition of the same name that was on display at the New-York Historical Society. It examines Hamilton's central role during the Revolutionary War and Founding period in creating the economic, constitutional, social, journalistic, political, and foreign policy templates for modern America.
Alexander Hamilton was one of the leading Americans who recognized the need for a strong centralized government and understood the structures that were needed to support the new republic and allow it to grow and flourish. Hamilton's vision, probably more than that of any other Founder, is reflected in the modern America in which we now live. Yet his contributions are hardly recognized today. He is primarily known for the duel that claimed his life in 1804 at the age of 47.
Hamilton made his impact felt on the world stage for more than a quarter century, and his innumerable articles, letters, pamphlets, and reports—including his role in the organization and authorship of the majority of The Federalist Papers—create a rich resource for studying and understanding his ideas and their results. The exhibition will guide visitors through Hamilton's legacy with an examination of documents Hamilton wrote and published, the institutions he shaped, and the conflicts that made him notorious in his time. Through Hamilton's words, visitors will experience this restless, prescient, practical man, whose role in the foundations of modern America was momentous and far reaching.
Using reproductions from the Gilder Lehrman Collection and the Library of the New-York Historical Society, and drawing on recent scholarship about Alexander Hamilton, this traveling exhibition helps students learn that Hamilton was a statesman and visionary whose life inspired discussion and controversy and shaped the America we live in two hundred years after his death.
Supplementary Materials
Site Resource Notebook
Educator's Guide, including documents from the Gilder Lehrman Collection
Multimedia CD with video commentary by Professor James G. Basker, curator of the exhibition, and more than forty printable Hamilton document facsimiles and transcripts
Color brochures that summarize the exhibition content and present a brief bibliography for visitors to explore the subject further
The exhibition is composed of seven interlocking panel sections. When opened, it is approximately 80 inches high and 210 inches long. It will require 65–75 running feet. The loan period for this exhibition is four weeks.
For additional information, email Stephanie Krom or call (646) 366-9666, ext. 17. To request Alexander Hamilton: The Man Who Made Modern America, please complete our online Application Form.