Preventing labor discrimination during World War II, 1942
A primary source by War Manpower Commission
View this item in the Collection.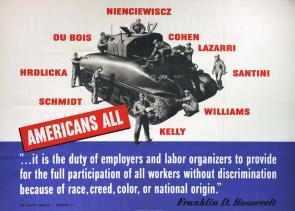 In early 1942, as men of working age enlisted in the military and war production accelerated, US industries experienced a labor shortage. President Roosevelt established the War Manpower Commission "to assure the most effective mobilization and maximum utilization of the Nation's manpower in the prosecution of the war" (Executive Order 9139). The commission estimated that nearly seven million new workers would be needed in 1942. General Frank McSherry, director of operations for the WMC, declared that
employers can no longer afford to discriminate against Negroes and workers of other minority groups. . . . Aliens, where it is possible under government restrictions, must be considered for war production jobs. . . . We cannot afford to permit any preconceived prejudices or artificial hiring standards to interfere with the production of tanks, planes and guns.[1]
This poster, published by the War Manpower Commission in 1942, highlights the need to draw laborers from all segments of the American population. It shows nine men working on a tank. Their last names suggest a variety of ethnicities and national origins: Cohen, du Bois, Hrdlicka, Kelly, Lazarri, Nienciewiscz, Santini, Schmidt, and Williams. The text paraphrases President Roosevelt's Executive Order 8802 of 1941 forbidding discrimination "because of race, creed, color, or national origin" in defense production.
---
[1] Frank J. McSherry, "Manpower Problems and the War Effort," July 7, 1942, Vital Speeches of the Day 8, no. 22 (1942), 702.
Click here for a full image.
Excerpt
AMERICANS ALL
". . . it is the duty of employers and labor organizers to provide for the full participation of all workers without discrimination because of race, creed, color, or national origin."
Franklin D. Roosevelt
Questions for Discussion
You are seeing this page because you are not currently logged into our website. If you would like to access this page and you are not logged in, please login or register for a gilderlehrman.org account, and then visit the link that brought you to this notice. Thanks!
Metadata
Make Gilder Lehrman your Home for History
---
Already have an account?
Please click here to login and access this page.
How to subscribe
Click here to get a free subscription if you are a K-12 educator or student, and here for more information on the Affiliate School Program, which provides even more benefits.
Otherwise, click here for information on a paid subscription for those who are not K-12 educators or students.
Make Gilder Lehrman your Home for History
---
Become an Affiliate School to have free access to the Gilder Lehrman site and all its features.
Click here to start your Affiliate School application today! You will have free access while your application is being processed.
Individual K-12 educators and students can also get a free subscription to the site by making a site account with a school-affiliated email address. Click here to do so now!
Make Gilder Lehrman your Home for History
---
Why Gilder Lehrman?
Your subscription grants you access to archives of rare historical documents, lectures by top historians, and a wealth of original historical material, while also helping to support history education in schools nationwide. Click here to see the kinds of historical resources to which you'll have access and here to read more about the Institute's educational programs.
Individual subscription: $25
Click here to sign up for an individual subscription to the Gilder Lehrman site.
Make Gilder Lehrman your Home for History
---
Upgrade your Account
We're sorry, but it looks as though you do not have access to the full Gilder Lehrman site.
All K-12 educators receive free subscriptions to the Gilder Lehrman site, and our Affiliate School members gain even more benefits!