Glory on D-Day: African American Heroism on the Beaches of Normandy
by Linda Hervieux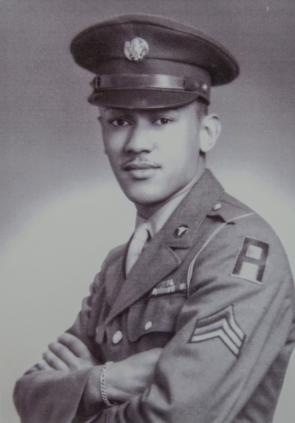 Waverly Woodson squinted into the distance. From the deck of the ship, he could see little. A thick blanket of cloud hung overhead, and the heavy air pressed in from all sides. Drenched fatigues clung to Woodson's weary limbs. For hours now he had peered into the blackness. A stripe of pink brightened the eastern horizon. First light. In the dark choppy waters of the English Channel in the early hours of June 6, 1944, Woodson found serenity, even beauty. It would be one of his last tranquil moments on this very long day.
It was a strange place to find peace. Above, the sky hummed with Allied planes, and all around thousands of vessels of every size steamed toward France. On Woodson's ship, men wallowed in puddles of sick. Their single Army-issue vomit bag was long used up, so they heaved into their steel helmets then tipped them over the side to be rinsed in the cresting swells. The metal boat pitched forward and back with each roll. When that effort proved too much, they heaved wherever they could. Dying would be better than this. Some of them said that.
The storied Channel had thwarted generations of marauders to keep Britannia safe, at least most of the time. The emperor Caligula's soldiers mutinied rather than sail these waters thick with mermaids. On this day, the invaders were heading in the opposite direction, their mission to conquer a continent systematically crushed by an enemy for whom freedom meant very little. To Woodson, freedom meant a great deal. He had lived it fully for the first time in a friendly village in Oxfordshire, England, where, for the first time in his twenty-one years, he met white people pleased to be his friend, and a postmistress happy to dance with him. That might not seem like very much, but Woodson would never forget it.
It was after dark on June 5 when Woodson's landing craft tank (LCT) left England. In spite of the turbulent seas, the order to go had been a relief. Woodson and four other medics had endured several uncomfortable days aboard this metal bucket, in an unusual 100-degree heat wave, sharing their LCT with one Sherman tank, two jeeps, three trucks, and some fifty-five infantrymen from the 29th Division, plus a Navy crew. They were headed to a five-mile, crescent-shaped patch of sand called Omaha, one of the five beaches the Allies had to seize on June 6, in the seventeen hours of daylight available to them. War planners expected a bloodbath on Omaha, the most challenging of the beaches, where enemy guns lay nestled in scrub-covered bluffs as high as 170 feet. The medics would land at 9 a.m. They would be the first African Americans ashore.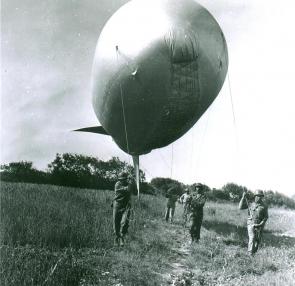 The medics were members of the 320th Barrage Balloon Battalion, the only African American combat unit to participate in the D-Day invasion. Scattered aboard more than 150 landing craft, the 621 men of the 320th's assault force landed in small groups alongside the infantry. They were charged with raising a curtain of barrage balloons above Omaha and Utah Beaches to protect the men and matériel from German planes. It was a job that one newspaper correspondent called "one of the most important missions of the war." Woodson and the 320th medics made their own headlines for extraordinary heroism and, in the words of one correspondent for Stars and Stripes, "covered themselves with glory on D-Day." Woodson's actions would make him a star in black America and earn him the moniker "No. 1 Invasion Hero."
Yet the men of the 320th, along with other African American units, have been written out of the D-Day story. Movies don't show them, and most history books don't mention them. It is a sore point among African American veterans. Indeed, many military historians do not credit black soldiers with participating in D-Day at all, although there were 2,000 African Americans who landed on those blood-soaked beaches under heavy fire. They were engineers, stevedores, and gunners. They carried the wounded to safety and buried the dead. They drove ambulances, earth-movers, and the trucks that would later be dubbed the Red Ball Express, the famous supply chain that fed the front lines. The men of the 4042nd Quartermaster Truck Company were praised by General Dwight D. Eisenhower, the Supreme Allied Commander, for salvaging their vehicles sunk in deep water—and saving significant quantities of blood plasma and other essentials. For his efforts herding traffic on Omaha Beach as shells exploded around him, Sgt. Norman Day was awarded the Silver Star and, for his injuries, the Purple Heart.
The Hollywood director John Ford, who landed on Omaha with a Coast Guard film crew, watched in amazement from a safe spot as a black soldier unloaded supplies from a ship, seemingly oblivious to the small-arms fire erupting around him. "I thought, 'By God, if anybody deserves a medal that man does,'" Ford wrote.
Today, many people have forgotten that the US military was segregated in World War II. For the more than one million Americans of color in uniform, service in segregated Jim Crow America was an exercise in daily humiliations and, particularly for those hailing from northern states, some of the most explicit and vicious racism they had ever experienced. Serving in an all-black unit meant answering to white commanders. Black officers saw their opportunities limited by quotas and the belief, ever-present in Army documents, that they weren't smart or brave enough to lead men into battle. Black soldiers were given inferior training and sub-standard weapons. Sometimes they were not given weapons until they were in the field.
Yet regardless of those odds, many African American units distinguished themselves. Among them was the 320th Barrage Balloon Battalion, which won ample praise in the crusading black newspapers of the day, but also in the white press, and in the military newspaper Stars and Stripes. The Army sent out glowing reports about the battalion, which was highly unusual for a black unit but was perhaps a response to a drumbeat of public pressure from civil rights leaders, liberals in Congress, and First Lady Eleanor Roosevelt to give African Americans more meaningful roles.
"It seems the whole front knows the story of the Negro barrage balloon battalion outfit which was one of the first ashore on D-Day," the war correspondent Bill Richardson wrote to Eisenhower's chief of staff. "They have gotten the reputation of hard workers and good soldiers." Eisenhower issued a commendation in July 1944 praising the battalion for carrying out its mission "with courage and determination." Ike said the unit "proved an important element of the air defense team."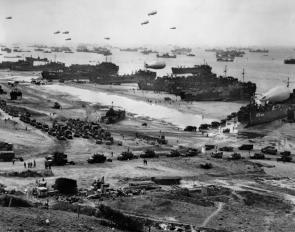 The barrage balloons made great press—and pictures of the silvery orbs bobbing over the Normandy coast are some of the war's most iconic images. Unlike during the London Blitz, where the balloons were incapable of preventing massive high-altitude bombing over such a huge swath of territory, in Normandy the gasbags were an ideal defense. Floating over the beaches, they forced enemy aircraft to fly higher, making it more difficult to drop their bombs with accuracy or to strafe the men below with machine-gun fire. Filled with highly explosive hydrogen, their thin steel cable could ensnare a plane, causing it to stall and crash. Four-pound bombs anchored under the balloon, released by a cable strike, could explode a wing or the gas tank. Pilots were terrified of them.
"Every night Jerry visits the invasion coast of France," wrote James Hugo Madison, correspondent with the New Journal and Guide in Norfolk, Virginia. "He comes to bomb or strafe the beach but he keeps a respectable distance above the lethal cables held erect along the shore line by barrage balloons. Not since the first night has he been able to drop to strafing altitude and that was before balloons were present in sufficient numbers." The balloons, he wrote, "keep the front door to the front lines open."
Among the acts of bravery credited to the men of the 320th during their 140 days in France, none were more remarkable than the actions of Waverly B. Woodson, Jr. The medical student from West Philadelphia was crouched on deck when his ship was hit by fire on the approach to Omaha, felling troops like matchsticks. Woodson's lower extremities burned. He reached down and brought up a hand covered in blood. "I am dying," he thought. One of the medics slapped dressings on his buttocks and inner thigh, ripped open by shrapnel. The helpless craft drifted to a stop, and the ramp fell with a bang. Woodson and the medics plunged into four feet of water and trudged onto the beach, slugs popping mini-geysers of sand at their feet. Woodson unpacked a tent roll he had pulled out of the water, as the rising tide carried in the dead and threatened to drown the living. Throughout the day and night and into the next day, Woodson worked through his pain to save lives. He pulled out bullets, patched gaping wounds, and dispensed blood plasma. He amputated a right foot. When he thought he could do no more, he resuscitated four drowning men. Thirty hours after he set his boots on Omaha Beach, Woodson collapsed.
After three days aboard a hospital ship, Woodson asked to be sent back to the beach. Word of his heroics spread. Newspapers wrote that he had treated more than 300 men. The plaudits kept coming, and Woodson returned home a celebrity. The black press called on President Franklin D. Roosevelt to award him the Medal of Honor.
A sole piece of paper exists today in the National Archives revealing that Woodson was in fact a candidate for the nation's highest award for valor. A note passed from the War Department to the White House reveals that Woodson's commanding officer had recommended him for the Distinguished Service Cross, the second-highest award, but that the office of a US Army general in Britain had changed the recommendation, believing Woodson deserved the higher honor. "This is a big enough award so that the President can give it personally, as he has in the case of some white boys," a War Department aide wrote. The nomination was significant because no African Americans received the Medal of Honor in World War II. After an Army study found pervasive racism was to blame for the slight, President Bill Clinton awarded seven Medals of Honor to African Americans in 1997. Waverly Woodson was not among them.
The office of US Rep. Chris Van Hollen (D-Md.) has called on the Army to grant Woodson, who died in 2005, a posthumous Medal of Honor. Woodson's family has begun an online petition.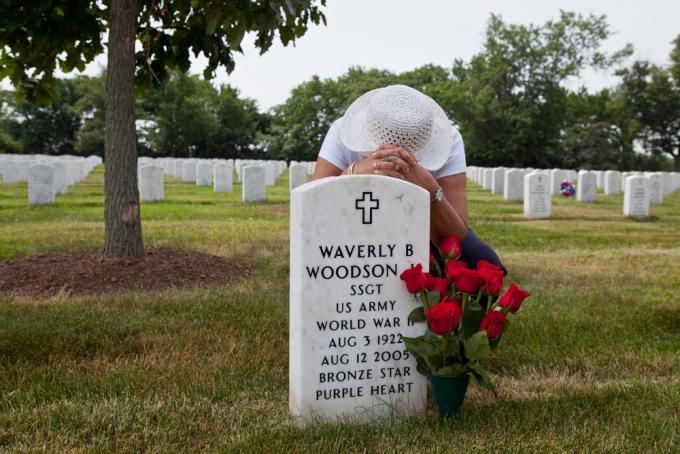 ---
Linda Hervieux is a journalist and photographer whose work has appeared in publications including the New York Times, the International Herald Tribune, the New York Daily News, and the Daily Beast. She is the author of Forgotten: The Untold Story of D-Day's Black Heroes, At Home and At War, which will be released in paperback on November 1, 2016, by Harper. A native of Lowell, Massachusetts, she lives in Paris, France. For more information on the men of the 320th, see www.lindahervieux.com.
Make Gilder Lehrman your Home for History
---
Already have an account?
Please click here to login and access this page.
How to subscribe
Click here to get a free subscription if you are a K-12 educator or student, and here for more information on the Affiliate School Program, which provides even more benefits.
Otherwise, click here for information on a paid subscription for those who are not K-12 educators or students.
Make Gilder Lehrman your Home for History
---
Become an Affiliate School to have free access to the Gilder Lehrman site and all its features.
Click here to start your Affiliate School application today! You will have free access while your application is being processed.
Individual K-12 educators and students can also get a free subscription to the site by making a site account with a school-affiliated email address. Click here to do so now!
Make Gilder Lehrman your Home for History
---
Why Gilder Lehrman?
Your subscription grants you access to archives of rare historical documents, lectures by top historians, and a wealth of original historical material, while also helping to support history education in schools nationwide. Click here to see the kinds of historical resources to which you'll have access and here to read more about the Institute's educational programs.
Individual subscription: $25
Click here to sign up for an individual subscription to the Gilder Lehrman site.
Make Gilder Lehrman your Home for History
---
Upgrade your Account
We're sorry, but it looks as though you do not have access to the full Gilder Lehrman site.
All K-12 educators receive free subscriptions to the Gilder Lehrman site, and our Affiliate School members gain even more benefits!
Metadata