Fighting against the Odds: Black Soldiers in the Second World War
by John H. Morrow, Jr.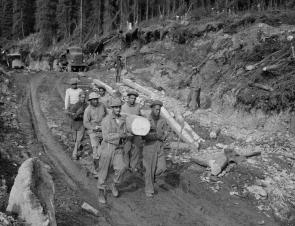 African Americans had to fight for the right to fight in World War II (1939–1945), although they had fought in every conflict that the American colonies and the United States had waged. The rabid racism prevalent in the United States at the time, particularly in the South, led to the relegation of most black soldiers to engineering, or labor and stevedore battalions in both world wars. In 1917 southern politicians adamantly opposed arming and training black men to kill Europeans in World War I because of fears that they might return and destroy the system of rigid segregation that pervaded the American South. Black soldiers performed logistical duties essential to the war effort, but most of them could not engage in the frontline combat necessary to prove valor and thus worthiness for full and equal citizenship rights. Due to pressure from the NAACP, some 40,000 black soldiers did serve in combat in 1918, in the 92nd and 93rd (Provisional) Divisions, the former in the American Expeditionary Forces and the latter, deployed in regiments, in the French army. Yet southern officers, who claimed to know best how to command black soldiers, in a concerted effort to rid the postwar peacetime army of black officers and soldiers, ignored successes and the substantial number of Distinguished Service Crosses awarded black soldiers, did not consider them for the Medal of Honor because of their race, exaggerated failures, and insisted that black soldiers, and particularly officers, remained unfit to fight or lead. A War College memorandum of 1925 codified these racist sentiments for the duration of the interwar years, and the US Army, like the rest of the United States, began the Second World War mired in the same racist prejudices and system of segregation.
Race trumped rank in the US Army—no black soldier could command his white counterpart, while no white soldier had to acknowledge a black superior, and all black units required white commanders. Rigid segregation reigned, and white southerners still claimed to "understand" black soldiers, the majority of whom were once again assigned to construction and stevedore battalions. Black engineers built the Alcan Highway through Canada to Alaska at a time when African Americans could not live in Alaska.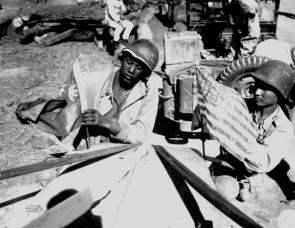 Later they built the Ledo Road in Burma in the effort to move supplies from India to American units in China. They built airfields on Pacific Islands for the Army Air Forces, while in Europe black soldiers drove the trucks of the "Red Ball Express" that supplied Patton's army in its thrust across France. As in World War I, the services of these black soldiers were essential to military success, but relegating African Americans to these tasks kept them from disproving the stereotype that black soldiers lacked the valor, intelligence, and initiative necessary for armed combat.
In 1942, under pressure from black organizations, the US Army formed the 92nd and 93rd Divisions, but under racist southern generals. Army Chief of Staff Gen. George C. Marshall, who had personally selected the divisions' commanding generals, opposed any "social experiments" (ie, integration) in the wartime army. Both divisions arrived late to the war in 1944–1945: the 92nd fought primarily in the difficult campaigns in northern Italy in 1944–1945, and the 93rd performed "mop-up" duties in the Pacific, on Bougainville in particular. Both division commanders considered these "experiments" failures, regardless of the opposing assessments of some of their white subordinates and the achievements and displays of heroism by their men.
Although the army kept no official histories for units smaller than a division, black battalions performed well in combat. The 761st "Black Panther" Tank Battalion, for example, served with distinction as a spearhead of Gen. George Patton's Third Army at the Battle of the Bulge and in the final battles in France and Germany. The 784th Tank Battalion also fought in northwest Europe; the 758th, in Italy. Black soldiers manned three Tank Destroyer Battalions, units equipped with either towed anti-tank cannon or tank destroyers, lightly armored tracked vehicles equipped with powerful anti-tank cannon. Black soldiers also served in segregated artillery and anti-aircraft battalions that supported white units in 1944–1945. One artillery battalion, the 969th Field Artillery, equipped with heavy 155 mm cannon, provided essential cover for the 101st Airborne Division at Bastogne during the Battle of the Bulge.
Less known, but equally significant, were "fifth platoons" of black soldiers formed in 1944–1945. The dire shortage of combat infantryman from losses suffered in the Battle of the Bulge and in the Hürtgen Forest prompted allied commander Gen. Dwight Eisenhower to call for black volunteers to undergo combat training and relinquish their rank in order to serve in white divisions. Nearly 2,500 volunteers formed some eighty-five platoons, which joined companies of white soldiers (a company usually had four platoons, thus the name "fifth platoons") for frontline service. This desperate "experiment" yielded excellent results, as the white company commanders reported that not only did the black and white soldiers fight well in combat, but also that some "fifth platoons" fought more aggressively than their white counterparts because they had something to prove. At the end of hostilities in Europe, commanders disbanded the volunteer platoons, returning the African American soldiers to their original units, as if the "experiment" had never occurred.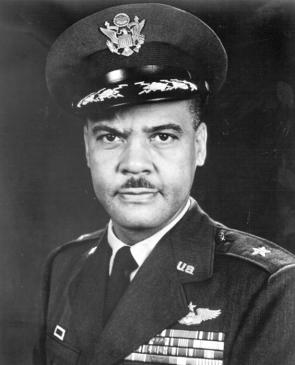 On the other hand, the black fighter pilots of the 99th Squadron and later the 332nd Fighter Group, the "Tuskegee Airmen," were impossible to ignore, even in a segregated air force. According to army dicta, black men were incapable of flying, much less aerial combat, and under black leadership at that. Nevertheless, Eleanor Roosevelt's support greatly aided the unit's formation. The airmen's successful record, under the command of Col. Benjamin O. Davis, Jr., black graduate of West Point in 1936, in the 12th and then the 15th Air Force flying out of Italy, merited the award of three Distinguished Unit Citations.
Black soldiers had fought, and excelled, in combat. Black nurses had deployed to the European Theater.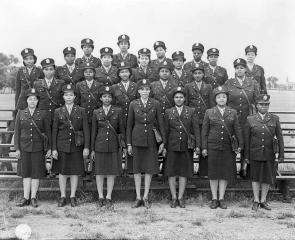 Black Marines trained at Montford Point, North Carolina, and supplied and supported their white counterparts in the struggles for Pacific islands. The US Navy, whose black sailors were cooks and servants, launched a ship manned by black sailors under white officers' command. Black servicemen returned to a segregated United States, but African Americans' determined waging of the "Double V" campaign—victory against racism at home and fascism abroad—paved the way for the future integration of American society. In 1948 President Harry Truman ordered the desegregation of the armed forces. The US Air Force complied, but not until the Korean War would the other services integrate.
One egregious omission remained—military decoration boards had not considered black soldiers for the Medal of Honor during either world war.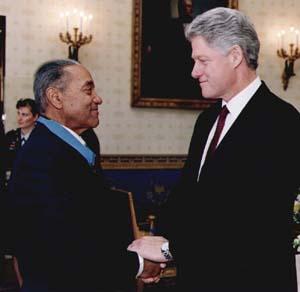 Prolonged struggle for a Presidential Unit Citation for Extraordinary Service for the 761st Tank Battalion met success under President Carter in 1978 and encouraged further efforts on behalf of black soldiers. In 1993, after rigorous review, President Clinton awarded seven Medals of Honor to black soldiers: Lieutenants John Fox and Vernon Baker of the 92nd Division; Staff Sergeant Edward Carter, Jr., and Private First Class Willy F. James, Jr., of the "Fifth Platoons"; Staff Sergeant Ruben Rivers of the 761st and Lieutenant Charles Thomas of the 614th Tank Destroyer Battalion; and Private George Watson, a soldier in the 29th Quartermaster Regiment. Only Baker lived to receive his medal. The Tuskegee Airmen received the Congressional Gold Medal in 2007. Delayed recognition of the valor of African American servicemen in World War II ratified that black Americans had more than earned equal rights in the Second World War.
---
John H. Morrow, Jr., is Franklin Professor of History at the University of Georgia. He taught for seventeen years at the University of Tennessee, Knoxville, where, in 1971, he became the first African American faculty member in the College of Arts and Sciences. He is the author of The Great War: An Imperial History (Routledge, 2004) and the co-author, with Jeffrey T. Sammons, of Harlem's Rattlers and the Great War: The Undaunted 369th Regiment and the African American Quest for Equality (University Press of Kansas, 2014). He is currently writing a history of World War II for Longman Press.
Make Gilder Lehrman your Home for History
---
Already have an account?
Please click here to login and access this page.
How to subscribe
Click here to get a free subscription if you are a K-12 educator or student, and here for more information on the Affiliate School Program, which provides even more benefits.
Otherwise, click here for information on a paid subscription for those who are not K-12 educators or students.
Make Gilder Lehrman your Home for History
---
Become an Affiliate School to have free access to the Gilder Lehrman site and all its features.
Click here to start your Affiliate School application today! You will have free access while your application is being processed.
Individual K-12 educators and students can also get a free subscription to the site by making a site account with a school-affiliated email address. Click here to do so now!
Make Gilder Lehrman your Home for History
---
Why Gilder Lehrman?
Your subscription grants you access to archives of rare historical documents, lectures by top historians, and a wealth of original historical material, while also helping to support history education in schools nationwide. Click here to see the kinds of historical resources to which you'll have access and here to read more about the Institute's educational programs.
Individual subscription: $25
Click here to sign up for an individual subscription to the Gilder Lehrman site.
Make Gilder Lehrman your Home for History
---
Upgrade your Account
We're sorry, but it looks as though you do not have access to the full Gilder Lehrman site.
All K-12 educators receive free subscriptions to the Gilder Lehrman site, and our Affiliate School members gain even more benefits!
Metadata