Sid Lapidus Collection: Liberty and the American Revolution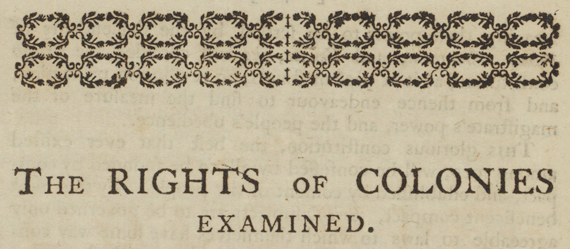 Introduction
This teaching strategy offers particular insights into the American and British perspectives on taxation during the decades leading up to the American Revolution.
Guiding Questions
What is liberty?
Were Americans justified in their criticisms of British colonial policy during the 1750s and 1760s?
Objective
After completing the lessons in this unit, students will be able to use the following documents to analyze the reactions of both the colonists and the British to British colonial policies in the 1750s.
Motivation
Prior to reading the documents, students should be asked to define the term "liberty."
Lesson Activities
The lesson can take on a number of different formats. The class can be divided in half to debate the two very different perspectives. Students can also divided into smaller groups of four or five, with each student taking a different document and sharing it with the other members of the group (jigsaw format). All students should be responsible for doing a complete analysis of the document and sharing their findings in written form.
Documents for Group A
James Otis, The Rights of the British Colonies Asserted and Proved (Boston, 1764), Page 1 and Page 2.
James Otis (1725–1783) was one of the most influential pre-Revolution American thinkers. The Rights of British Colonies argued that taxation without representation amounted to a disenfranchisement of an American's civil rights.
[Stephen Hopkins], The Rights of Colonies Examined (Providence, 1765).
Stephen Hopkins (1707–1785), the governor of Rhode Island and a signer of the Declaration of Independence, founded the Providence Gazette in 1762. This pamphlet, The Rights of Colonies, argued for the rights not just of Rhode Islanders, but of all "Americans." Hopkins also suggested a federal government model in which states retained the right to tax.
James Otis, A Vindication of the British Colonies, against the Aspersions of the Halifax Gentleman in His Letter to a Rhode-Island Friend (Boston, 1765).
Otis wrote his Vindication of the British Colonies in support of Hopkins. This pamphlet further supported his belief in no taxation without representation.
Documents for Group B
[Soame Jenyns], The Objections to the Taxation of Our American Colonies, by the Legislature of Great Britain, Briefly Consider'd (London, 1765), Page 1 and Page 2.
Soame Jenyns (1704–1787) was a Cambridgeshire, England, landowner who served in Parliament for thirty-eight years. Jenyns generally came down on the side of conservative landholders like himself.
[Thomas Whately], The Regulations Lately Made concerning the Colonies, and the Taxes Imposed upon Them, considered (London, 1765).
Thomas Whately (1726–1772) was secretary to the Treasury under George Grenville and helped draft the 1764 Revenue Act and the 1765 Stamp Act. In The Regulations Lately Made Concerning the Colonies, Whately defended both controversial policies.
[Josiah Tucker], A Letter from a Merchant in London to His Nephew in North America, Relative to the Present Posture of Affairs in the Colonies; . . . (London, 1766).
Josiah Tucker (1713–1799), an economist and political writer, favored American separation based on the theory of self-interest. As early as 1766 he advocated for colonial separation, fearing that radical American politics would lead to similar moves in Britain.
Questions for Discussion
You are seeing this page because you are not currently logged into our website. If you would like to access this page and you are not logged in, please login or register for a gilderlehrman.org account, and then visit the link that brought you to this notice. Thanks!
Metadata
Make Gilder Lehrman your Home for History
---
Already have an account?
Please click here to login and access this page.
How to subscribe
Click here to get a free subscription if you are a K-12 educator or student, and here for more information on the Affiliate School Program, which provides even more benefits.
Otherwise, click here for information on a paid subscription for those who are not K-12 educators or students.
Make Gilder Lehrman your Home for History
---
Become an Affiliate School to have free access to the Gilder Lehrman site and all its features.
Click here to start your Affiliate School application today! You will have free access while your application is being processed.
Individual K-12 educators and students can also get a free subscription to the site by making a site account with a school-affiliated email address. Click here to do so now!
Make Gilder Lehrman your Home for History
---
Why Gilder Lehrman?
Your subscription grants you access to archives of rare historical documents, lectures by top historians, and a wealth of original historical material, while also helping to support history education in schools nationwide. Click here to see the kinds of historical resources to which you'll have access and here to read more about the Institute's educational programs.
Individual subscription: $25
Click here to sign up for an individual subscription to the Gilder Lehrman site.
Make Gilder Lehrman your Home for History
---
Upgrade your Account
We're sorry, but it looks as though you do not have access to the full Gilder Lehrman site.
All K-12 educators receive free subscriptions to the Gilder Lehrman site, and our Affiliate School members gain even more benefits!