The Fifteenth Amendment, 1870
A primary source by William Henry Seward
View this item in the Collection.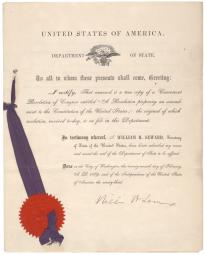 The Thirteenth, Fourteenth, and Fifteenth Amendments gave constitutional status to emancipation's promise of freedom. The Fifteenth Amendment provided suffrage for black men, declaring that "The right of citizens of the United States to vote shall not be denied or abridged by the United States or by any State on account of race, color, or previous condition of servitude."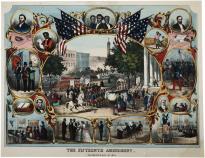 In this lithograph, "The fifteenth amendment celebrated May 19th 1870," the legislation takes symbolic form. The artist depicts African Americans' hopes arising from the passage of the Fifteenth Amendment: scenes of education, family life, jobs, and the vote. Among the collage of images are portraits of abolitionist heroes Frederick Douglass, John Brown, and Abraham Lincoln.
Questions for Discussion
Full content is available to our community and Affiliate School members only. To view it, please apply for your school to be an Affiliate School, sign up to be a community member, or log in.
Metadata
Make Gilder Lehrman your Home for History
---
Already have an account?
Please click here to login and access this page.
How to subscribe
Click here to get a free subscription if you are a K-12 educator or student, and here for more information on the Affiliate School Program, which provides even more benefits.
Otherwise, click here for information on a paid subscription for those who are not K-12 educators or students.
Make Gilder Lehrman your Home for History
---
Become an Affiliate School to have free access to the Gilder Lehrman site and all its features.
Click here to start your Affiliate School application today! You will have free access while your application is being processed.
Individual K-12 educators and students can also get a free subscription to the site by making a site account with a school-affiliated email address. Click here to do so now!
Make Gilder Lehrman your Home for History
---
Why Gilder Lehrman?
Your subscription grants you access to archives of rare historical documents, lectures by top historians, and a wealth of original historical material, while also helping to support history education in schools nationwide. Click here to see the kinds of historical resources to which you'll have access and here to read more about the Institute's educational programs.
Individual subscription: $25
Click here to sign up for an individual subscription to the Gilder Lehrman site.
Make Gilder Lehrman your Home for History
---
Upgrade your Account
We're sorry, but it looks as though you do not have access to the full Gilder Lehrman site.
All K-12 educators receive free subscriptions to the Gilder Lehrman site, and our Affiliate School members gain even more benefits!