The Grange Movement, 1875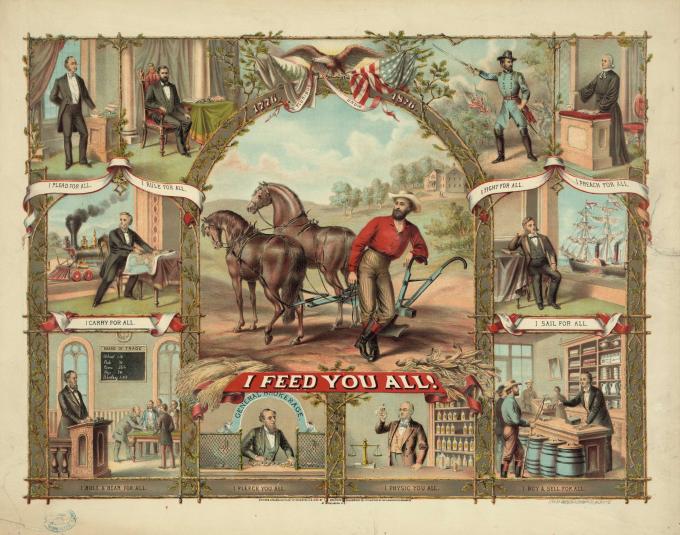 The Patrons of Husbandry, or the Grange, was founded in 1867 to advance methods of agriculture, as well as to promote the social and economic needs of farmers in the United States. The financial crisis of 1873, along with falling crop prices, increases in railroad fees to ship crops, and Congress's reduction of paper money in favor of gold and silver devastated farmers' livelihoods and caused a surge in Grange membership in the mid-1870s. Both at the state and national level, Grangers gave their support to reform minded groups such as the Greenback Party, the Populist Party, and, eventually, the Progressives.
This lithograph, published in 1875, is a modification of the Grange motto, "I pay for all." It asserts that the farmer is the central character upon which all society relies, with the central image of the lithograph being a farmer behind his plow, captioned, "I feed you all!" This vignette appears within a framework of twigs and oak branches, with stalks of corn and sheaves of wheat in the corners.
Surrounding the central farmer vignette is a series of other scenes of professionals, laborers, and military and government agents. Clockwise from the upper left corner appear: a lawyer ("I Plead for All"); a seated President Ulysses S. Grant ("I Rule for All"); an officer leading a charge ("I Fight for All"); a clergyman at his pulpit ("I Preach for All"); a ship owner watching his vessel through a window ("I Sail for All"); a shopkeeper in a general store ("I Buy & Sell for All"); a doctor with a scale and drugs ("I Physic You All"); a banker at his window ("I Fleece You All"); a trader ("I Bull & Bear for All"); and a railroad owner watching his locomotive ("I Carry for All").
Questions for Discussion
You are seeing this page because you are not currently logged into our website. If you would like to access this page and you are not logged in, please login or register for a gilderlehrman.org account, and then visit the link that brought you to this notice. Thanks!
Metadata
Make Gilder Lehrman your Home for History
---
Already have an account?
Please click here to login and access this page.
How to subscribe
Click here to get a free subscription if you are a K-12 educator or student, and here for more information on the Affiliate School Program, which provides even more benefits.
Otherwise, click here for information on a paid subscription for those who are not K-12 educators or students.
Make Gilder Lehrman your Home for History
---
Become an Affiliate School to have free access to the Gilder Lehrman site and all its features.
Click here to start your Affiliate School application today! You will have free access while your application is being processed.
Individual K-12 educators and students can also get a free subscription to the site by making a site account with a school-affiliated email address. Click here to do so now!
Make Gilder Lehrman your Home for History
---
Why Gilder Lehrman?
Your subscription grants you access to archives of rare historical documents, lectures by top historians, and a wealth of original historical material, while also helping to support history education in schools nationwide. Click here to see the kinds of historical resources to which you'll have access and here to read more about the Institute's educational programs.
Individual subscription: $25
Click here to sign up for an individual subscription to the Gilder Lehrman site.
Make Gilder Lehrman your Home for History
---
Upgrade your Account
We're sorry, but it looks as though you do not have access to the full Gilder Lehrman site.
All K-12 educators receive free subscriptions to the Gilder Lehrman site, and our Affiliate School members gain even more benefits!