Suffragists invoke Lincoln, 1910
View this item in the Collection.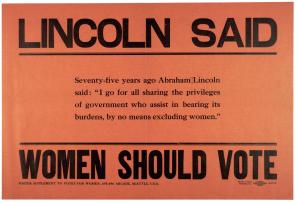 In 1910 Washington State voted to approve full woman suffrage, a vote that was influenced by publications and posters such as this one. This poster, declaring that "Lincoln said women should vote," invoked the words of Abraham Lincoln in an effort to link the memory of the assassinated president to the cause of woman suffrage. Published as a supplement to Votes for Women magazine, edited by suffragist Missouri T. B. Hanna in Seattle, the poster quotes Lincoln as having said, "I go for all sharing the privileges of government who assist in bearing its burdens, by no means excluding women."
The quote came from a letter Lincoln wrote while running for re-election to the Illinois general assembly in 1836. It was, however, an incomplete quotation. What Lincoln actually wrote was: "I go for all sharing the privileges of the government, who assist in bearing its burdens. Consequently I go for admitting all whites to the right of suffrage, who pay taxes or bear arms, (by no means excluding females.)"[1] The edited version that appeared on the Votes for Women poster removed the parentheses around Lincoln's mention of women and also left out Lincoln's assertion that suffrage should be for all "who pay taxes or bear arms."
While a cursory reading of Lincoln's words could suggest support for woman suffrage, his statement may in fact have been what Lincoln biographer David Herbert Donald calls a "tongue-in-cheek joke."[2] Lincoln knew that most women could not pay taxes in Illinois (only widows who did not remarry could pay taxes in their own names) and that none could join the militia.
Lincoln was never known as an outspoken advocate of voting rights for women, and his 1836 letter was not meant to be a serious endorsement of widespread woman suffrage. Seventy-five years later, however, twentieth-century suffragists capitalized on Lincoln's words, regardless of their intended meaning, to agitate for voting rights. The invocation of Lincoln's memory, in concert with a wider campaign for suffrage, was successful in Washington State, and soon after women got the vote there, Votes for Women declared itself "the magazine that won equal suffrage in Washington."
Questions for Discussion
You are seeing this page because you are not currently logged into our website. If you would like to access this page and you are not logged in, please login or register for a gilderlehrman.org account, and then visit the link that brought you to this notice. Thanks!
Metadata
Make Gilder Lehrman your Home for History
---
Already have an account?
Please click here to login and access this page.
How to subscribe
Click here to get a free subscription if you are a K-12 educator or student, and here for more information on the Affiliate School Program, which provides even more benefits.
Otherwise, click here for information on a paid subscription for those who are not K-12 educators or students.
Make Gilder Lehrman your Home for History
---
Become an Affiliate School to have free access to the Gilder Lehrman site and all its features.
Click here to start your Affiliate School application today! You will have free access while your application is being processed.
Individual K-12 educators and students can also get a free subscription to the site by making a site account with a school-affiliated email address. Click here to do so now!
Make Gilder Lehrman your Home for History
---
Why Gilder Lehrman?
Your subscription grants you access to archives of rare historical documents, lectures by top historians, and a wealth of original historical material, while also helping to support history education in schools nationwide. Click here to see the kinds of historical resources to which you'll have access and here to read more about the Institute's educational programs.
Individual subscription: $25
Click here to sign up for an individual subscription to the Gilder Lehrman site.
Make Gilder Lehrman your Home for History
---
Upgrade your Account
We're sorry, but it looks as though you do not have access to the full Gilder Lehrman site.
All K-12 educators receive free subscriptions to the Gilder Lehrman site, and our Affiliate School members gain even more benefits!