Prescription for alcohol during Prohibition, 1923
by H.C. McCarter
View this item in the Collection.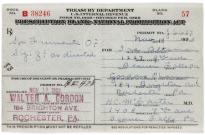 At midnight, January 16, 1920, the Eighteenth Amendment to the US Constitution prohibiting the manufacture and sale of alcohol took effect. Even before the Eighteenth Amendment was ratified, about 65 percent of the country had already banned alcohol. Progressives argued that prohibition would reduce violence and corruption, and with America's entry into World War I, Prohibition took on a patriotic meaning, since many breweries were owned by German Americans.
The Eighteenth Amendment banned the manufacture and sale (but not the possession, consumption, or transportation) of "intoxicating liquors." In 1921, Congress passed the Volstead Act, which defined beer and wine as well as hard liquor as intoxicating beverages. A few states passed enforcement laws, with Indiana banning the sale of cocktail shakers and hip flasks. With fewer than 2,500 agents assigned to follow up on this law, effectively enforcing prohibition was nearly impossible.
One exception to the ban was alcohol needed for medicinal purposes. The Internal Revenue Service, which was charged with enforcing prohibition, issued special, watermarked prescription forms to doctors who could prescribe "Spiritus Frumenti" (alcohol) to their patients. Loopholes abounded; Dr. McCarter, who issued this prescription to Ira Altman of Beaver Falls, Pennsylvania, was a coroner. Altman filled his prescription the same day it was written.
A full transcript is available.
Questions for Discussion
Full content is available to our community and Affiliate School members only. To view it, please apply for your school to be an Affiliate School, sign up to be a community member, or log in.
Metadata
Make Gilder Lehrman your Home for History
---
Already have an account?
Please click here to login and access this page.
How to subscribe
Click here to get a free subscription if you are a K-12 educator or student, and here for more information on the Affiliate School Program, which provides even more benefits.
Otherwise, click here for information on a paid subscription for those who are not K-12 educators or students.
Make Gilder Lehrman your Home for History
---
Become an Affiliate School to have free access to the Gilder Lehrman site and all its features.
Click here to start your Affiliate School application today! You will have free access while your application is being processed.
Individual K-12 educators and students can also get a free subscription to the site by making a site account with a school-affiliated email address. Click here to do so now!
Make Gilder Lehrman your Home for History
---
Why Gilder Lehrman?
Your subscription grants you access to archives of rare historical documents, lectures by top historians, and a wealth of original historical material, while also helping to support history education in schools nationwide. Click here to see the kinds of historical resources to which you'll have access and here to read more about the Institute's educational programs.
Individual subscription: $25
Click here to sign up for an individual subscription to the Gilder Lehrman site.
K-12 School subscription: $195
Click here to sign up for an institutional subscription, which allows site access to all faculty and students in a single school, or all visitors to a library branch.
Make Gilder Lehrman your Home for History
---
Upgrade your Account
We're sorry, but it looks as though you do not have access to the full Gilder Lehrman site.
All K-12 educators receive free subscriptions to the Gilder Lehrman site, and our Affiliate School members gain even more benefits!