"Reelect Roosevelt—Friend of Labor," 1936
A primary source by Democratic National Campaign Committee
View this item in the Collection.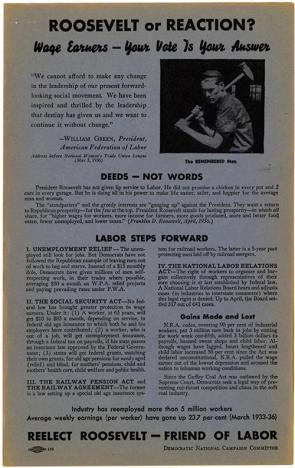 This Democratic Party campaign poster from 1936 outlines some of the agencies and regulations Franklin Roosevelt put in place to try to solve the most urgent problems of the Great Depression. While it reminds laborers of how they have benefitted from the New Deal and encourages them to support Roosevelt's reelection, it acknowledges that the Depression is not over and that "the unemployed still look for jobs." The "printer's bug" in the lower left indicates that the poster was printed by a union shop.
Excerpt
DEEDS—NOT WORDS
President Roosevelt has not given lip service to Labor. He did not promise a chicken in every pot and 2 cars in every garage. But he is doing all in his power to make life easier, safer, and happier for the average man and woman.
The "standpatters" and the greedy interests are "ganging up" against the President. They want a return to Republican prosperity—for the few at the top. President Roosevelt stands for lasting prosperity—in which all share, for "higher wages for workers, more income for farmers, more goods produced, more and better food eaten, fewer unemployed, and lower taxes." (Franklin D. Roosevelt, April, 1936.)
Questions for Discussion
You are seeing this page because you are not currently logged into our website. If you would like to access this page and you are not logged in, please login or register for a gilderlehrman.org account, and then visit the link that brought you to this notice. Thanks!
Metadata
Make Gilder Lehrman your Home for History
---
Already have an account?
Please click here to login and access this page.
How to subscribe
Click here to get a free subscription if you are a K-12 educator or student, and here for more information on the Affiliate School Program, which provides even more benefits.
Otherwise, click here for information on a paid subscription for those who are not K-12 educators or students.
Make Gilder Lehrman your Home for History
---
Become an Affiliate School to have free access to the Gilder Lehrman site and all its features.
Click here to start your Affiliate School application today! You will have free access while your application is being processed.
Individual K-12 educators and students can also get a free subscription to the site by making a site account with a school-affiliated email address. Click here to do so now!
Make Gilder Lehrman your Home for History
---
Why Gilder Lehrman?
Your subscription grants you access to archives of rare historical documents, lectures by top historians, and a wealth of original historical material, while also helping to support history education in schools nationwide. Click here to see the kinds of historical resources to which you'll have access and here to read more about the Institute's educational programs.
Individual subscription: $25
Click here to sign up for an individual subscription to the Gilder Lehrman site.
Make Gilder Lehrman your Home for History
---
Upgrade your Account
We're sorry, but it looks as though you do not have access to the full Gilder Lehrman site.
All K-12 educators receive free subscriptions to the Gilder Lehrman site, and our Affiliate School members gain even more benefits!