Picturing Uncle Tom's Cabin
When Harriet Beecher Stowe's novel Uncle Tom's Cabin was published in 1852, it ignited a great debate over the practice of slavery in America. A best seller that sold more than one million copies, the novel tells the stories of Tom, a field slave, and Eliza, a household servant, and how they dealt with the horrors of slavery. The book exposed the brutality of slavery to readers in the United States and in other countries. Harriet Beecher Stowe's fictional portrayal of slavery damaged the claims of southern plantation owners who said slaves were happy with their lives.
The scenes in this slideshow, inspired by scenes in the novel, appeared on a banner printed in 1852, the same year as Harriet Beecher Stowe's sensational book was published. The banner is part of the Gilder Lehrman Collection, in New York City.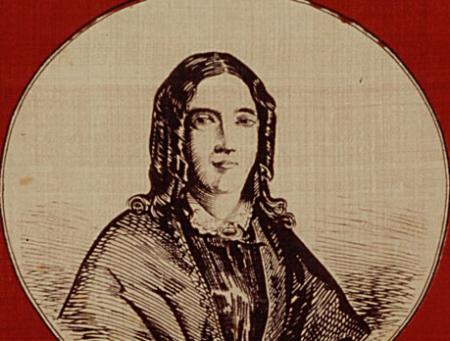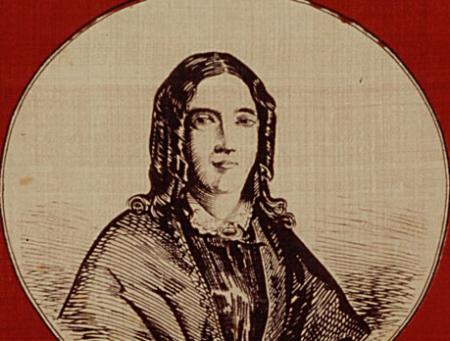 The daughter of a minister and born in rural New England, Harriet Beecher Stowe brought attention to the plight of slaves when she wrote Uncle Tom's Cabin in 1852. She researched her book by interviewing escaped slaves as well as slave owners. Stowe's novel was read by millions of people throughout the United States and served as an inspiration for the abolitionist cause. It is said that when she met President Abraham Lincoln in the middle of the Civil War in 1862, he commented, "So you're the little lady who wrote the book that started this great war."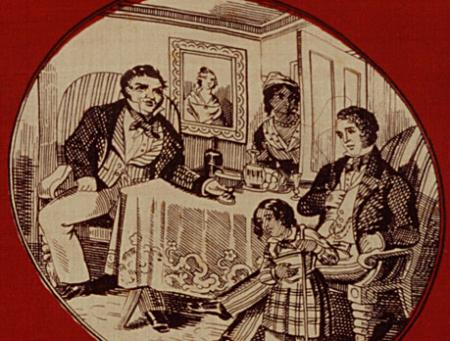 Arthur Shelby, a Kentucky farmer, faces the prospect of losing everything he owns. Though he and his wife, Emily Shelby, treat their slaves well, Shelby decides to raise money by selling two of his slaves, the middle aged Uncle Tom and the young Harry, to Mr. Haley, a slave trader.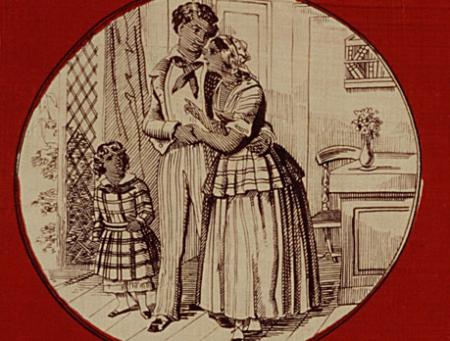 The parents of Harry, Eliza and George are appalled by Shelby's plan to sell their son, particularly after Emily Shelby promised Eliza that Harry would not be sold. Later Eliza and George escape to Canada.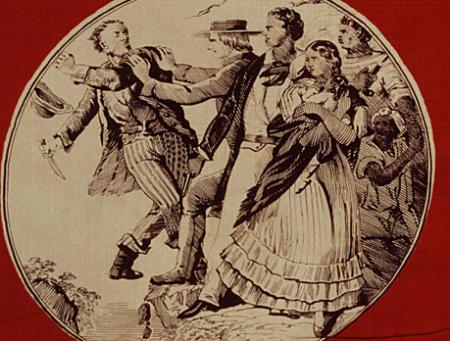 Loker, the slave catcher, pursues Eliza and George as they flee to Canada. He finally catches up with them, but they put up a fight, and George shoots Loker in the side (they later carry him to a nearby mission where he is treated).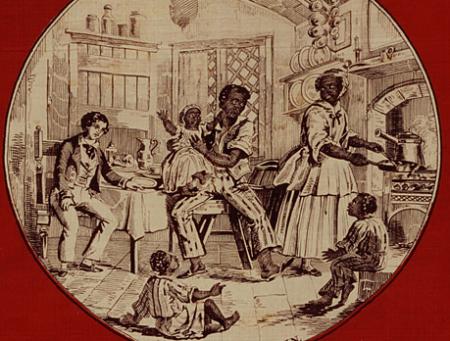 A view inside Uncle Tom's cabin.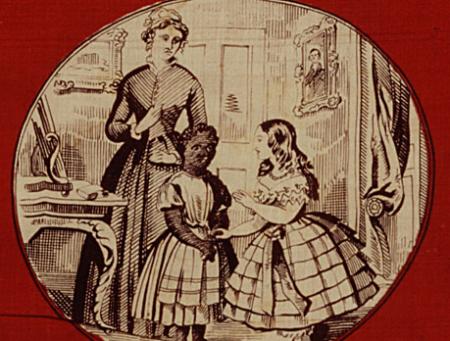 Uncle Tom befriends Eva on a Mississippi slave boat, saving her when she falls into the river. Her father buys Tom and Topsy, a slave child who was abused by her previous master.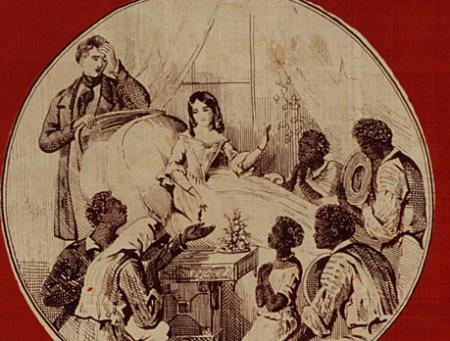 Soon after the family purchases Uncle Tom, Eva falls ill and dies. Her death inspires those around her to fight the injustice of slavery.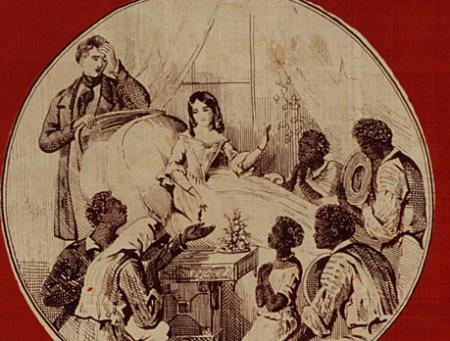 Her young child in her arms, Eliza flees the slave catchers, crossing the half-frozen Ohio River, which separates slave-holding Kentucky from the North.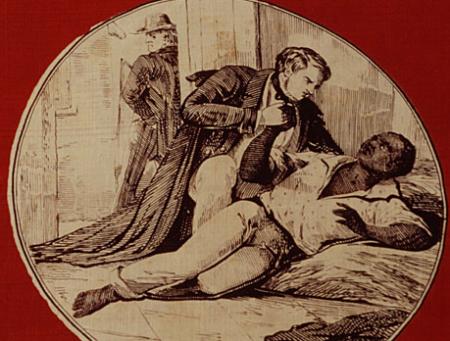 As Eliza and George escape to Canada, Uncle Tom has a vision and encourages Cassy, another slave, to escape. When he refuses to tell his master where Cassy has gone, Tom is beaten. George Shelby comes to buy Tom's freedom, but it is too late.
Make Gilder Lehrman your Home for History
---
Already have an account?
Please click here to login and access this page.
How to subscribe
Click here to get a free subscription if you are a K-12 educator or student, and here for more information on the Affiliate School Program, which provides even more benefits.
Otherwise, click here for information on a paid subscription for those who are not K-12 educators or students.
Make Gilder Lehrman your Home for History
---
Become an Affiliate School to have free access to the Gilder Lehrman site and all its features.
Click here to start your Affiliate School application today! You will have free access while your application is being processed.
Individual K-12 educators and students can also get a free subscription to the site by making a site account with a school-affiliated email address. Click here to do so now!
Make Gilder Lehrman your Home for History
---
Why Gilder Lehrman?
Your subscription grants you access to archives of rare historical documents, lectures by top historians, and a wealth of original historical material, while also helping to support history education in schools nationwide. Click here to see the kinds of historical resources to which you'll have access and here to read more about the Institute's educational programs.
Individual subscription: $25
Click here to sign up for an individual subscription to the Gilder Lehrman site.
Make Gilder Lehrman your Home for History
---
Upgrade your Account
We're sorry, but it looks as though you do not have access to the full Gilder Lehrman site.
All K-12 educators receive free subscriptions to the Gilder Lehrman site, and our Affiliate School members gain even more benefits!