"Half slave, half free": Lincoln and the "House Divided"
by Gabor S. Boritt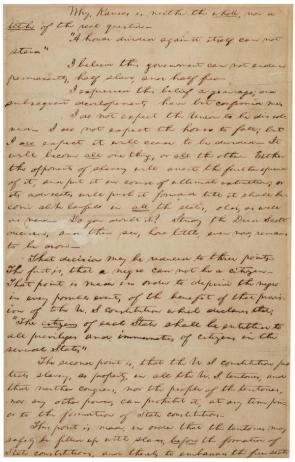 The Gospels of Matthew, Mark, and Luke all proclaim, "a house divided against itself can not stand."[1] Living in a Bible-reading country, most nineteenth-century Americans knew that metaphor by heart—words that also made good common sense. Lincoln had used them as early as 1843 while organizing the nascent Whig Party in Illinois with his friends Stephen T. Logan and Albert T. Bledsoe. The trio identified the author of the quotation as "he whose wisdom surpasses that of all philosophers." But to demonstrate doubly that "union is strength," they also quoted another well-known source, the Greek storyteller Aesop, "fabulist and philosopher," who told the tale of "the bundle of sticks." [2] The moral of that story was simple: individual sticks were easily broken, but a bundle of them together held strong. Religion and classical learning stood shoulder to shoulder to demonstrate the importance of unity.
As sectional conflict in the United States increased, Lincoln thought more and more about the "house divided"—words abolitionists had long used in their fight against slavery. Being a prudent politician, however, he would not go as far as they did. Then, in 1854, the passage of Stephen A. Douglas's Kansas-Nebraska Act opened the West to the possible expansion of slavery and threw the American political system into turmoil. His passions aroused, Lincoln ran for the U.S. Senate, lost, and, distressed at what was taking place around him, confessed to a Kentucky friend, a congressman turned professor: "'Can we, as a nation, continue, together permanently—forever—half slave, and half free?' The problem is too mighty for me. May God, in his mercy, superintend the solution."[3]
This he wrote in a private letter in 1855. During the following year he appears to have spoken publicly along like lines, but the press took no great notice.[4] It was another year before Lincoln felt ready to think about saying the same thing in a way that would be really heard. By then the fight over slavery in Kansas had become so ugly that some called it a civil war; the government seemed to be forcing the institution widely despised by northerners onto Kansas; and in the Dred Scott decision, the Supreme Court had declared that black people could not be citizens of the United States. Lincoln feared that the next step would be forcing slavery into the free states. The future looked bleak for African Americans, and so for the country.
Lincoln believed that some northern politicians were plotting to help an aggressive slavocracy and that his nemesis, Illinois Senator Stephen A. Douglas, stood at the forefront of the effort. Even some Republicans began to back down from their stance against the extension of slavery and move toward Douglas's philosophy of popular sovereignty, a doctrine that could allow the continued growth of the American "cancer."[5] A crisis was at hand.
As a man of principle, Lincoln saw no middle ground on the slavery issue. The conflict represented, as he would soon say, "the eternal struggle between . . . right and wrong—throughout the world."[6] As a practical politician he knew Douglas had to be stopped. Finally, in the winter of 1857–1858, Lincoln sat down and wrote what had been brewing in him for years.
"A house divided against itself can not stand."

I believe this government can not endure permanently, half slave, half free.[7]
Here it was on paper. Stark. Historic.
Lincoln was making careful notes for a firm public statement, as was his habit. These notes, saved by an accident of history and never intended for publication, represent a turning point in Lincoln's thought that would have been lost otherwise. The Illinois Republican knew that he was preparing a statement that would be heard around the country. We do not know whether he had any inkling that he was about to utter some of the most memorable words in American history.
The occasion to use his notes in public came in the summer of 1858, when he accepted the nomination of his party for Douglas's seat in the US Senate.
Mr. President and Gentlemen of the Convention.

If we could first know where we are, and whither we are tending, we could then better judge what to do, and how to do it. . . .

"A house divided against itself cannot stand."

I believe this government cannot endure, permanently half slave and half free."[8]
This was the strongest, the most far-reaching public statement about slavery ever made by an important Republican leader. Although Lincoln denied radical intent, [9] that is what Americans heard. And in the weeks that followed, he repeated his words again and again, making it clear that his statement had been "carefully prepared."[10]
When Douglas attacked his argument, Lincoln could respond with humor: did the Senator think that a divided house would stand? Lincoln might add that he merely quoted the Scriptures: did the Senator wish to attack that—make war upon those words "as Satan does upon the Bible?"[11] Audiences laughed at that thought. But in all seriousness Lincoln also explained that slavery was the only institution that had ever threatened the American republic. There was no way around the problem. The evil had to be confronted.[12]
"A house divided against itself can not stand." Lincoln proclaimed a painful truth. He lost the Senate race to Douglas but two years later reached the Presidency. By telling the truth he helped end the division of the nation. Before that could happen, however, there would be a civil war—the worst disaster and greatest triumph of American history. The cost would be very high, but in the end the house would no longer be divided. After Lincoln, the house—the United States—would be "forever free."[13]
---
Make Gilder Lehrman your Home for History
---
Already have an account?
Please click here to login and access this page.
How to subscribe
Click here to get a free subscription if you are a K-12 educator or student, and here for more information on the Affiliate School Program, which provides even more benefits.
Otherwise, click here for information on a paid subscription for those who are not K-12 educators or students.
Make Gilder Lehrman your Home for History
---
Become an Affiliate School to have free access to the Gilder Lehrman site and all its features.
Click here to start your Affiliate School application today! You will have free access while your application is being processed.
Individual K-12 educators and students can also get a free subscription to the site by making a site account with a school-affiliated email address. Click here to do so now!
Make Gilder Lehrman your Home for History
---
Why Gilder Lehrman?
Your subscription grants you access to archives of rare historical documents, lectures by top historians, and a wealth of original historical material, while also helping to support history education in schools nationwide. Click here to see the kinds of historical resources to which you'll have access and here to read more about the Institute's educational programs.
Individual subscription: $25
Click here to sign up for an individual subscription to the Gilder Lehrman site.
Make Gilder Lehrman your Home for History
---
Upgrade your Account
We're sorry, but it looks as though you do not have access to the full Gilder Lehrman site.
All K-12 educators receive free subscriptions to the Gilder Lehrman site, and our Affiliate School members gain even more benefits!
Metadata