America and the China Trade: Images from the Collection of the Peabody Essex Museum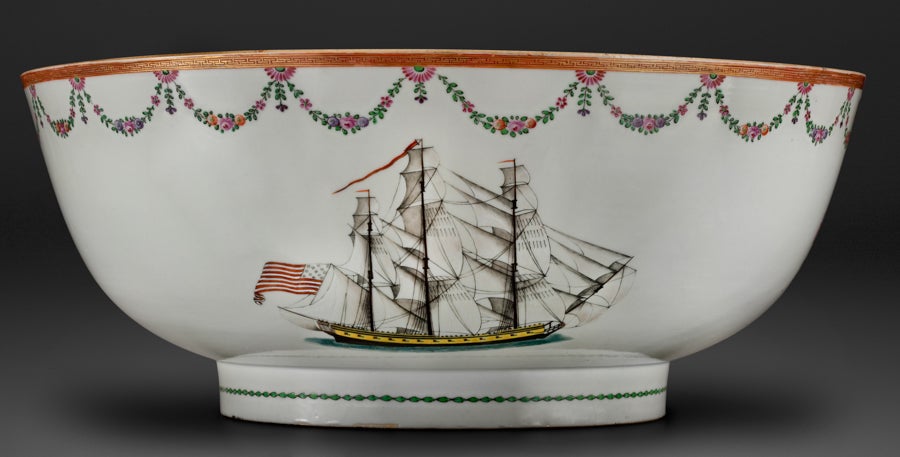 Grant Turk Punchbowl, ca. 1786
China
Porcelain, 5 ½ in. h. x 15 7/8 in. diam.
Peabody Essex Museum, Gift of Elias Hasket Derby, Jr., 1800–1801, E62499
This bowl was presented by the Chinese merchant Pinqua to the captain of the Grand Turk, the second ship from America to reach Canton and the first from Salem, and is inscribed in the center to indicate that it is the Grand Turk. The design however was taken from a British publication of 1777 on seamanship.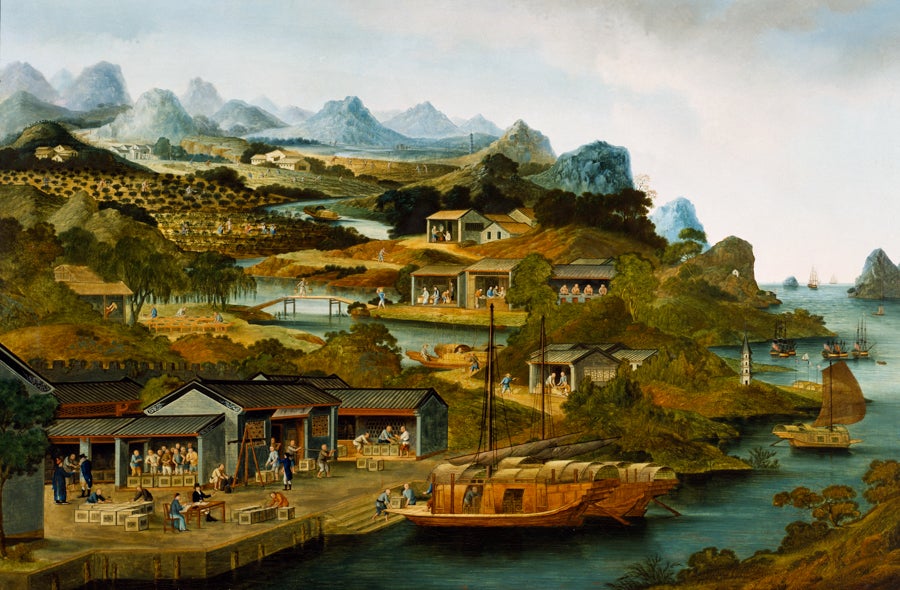 The China Tea Trade, 1790–1800
China, unknown artist
Oil on canvas, 47 1/8 x 71 3/4 in.
Peabody Essex Museum, Museum Purchase, M25794
The entire process of tea production is illustrated in this single painting, starting at the top with the preparation of the ground and moving back and forth down the canvas to the waterfront until the tea is packed and shipped to the West.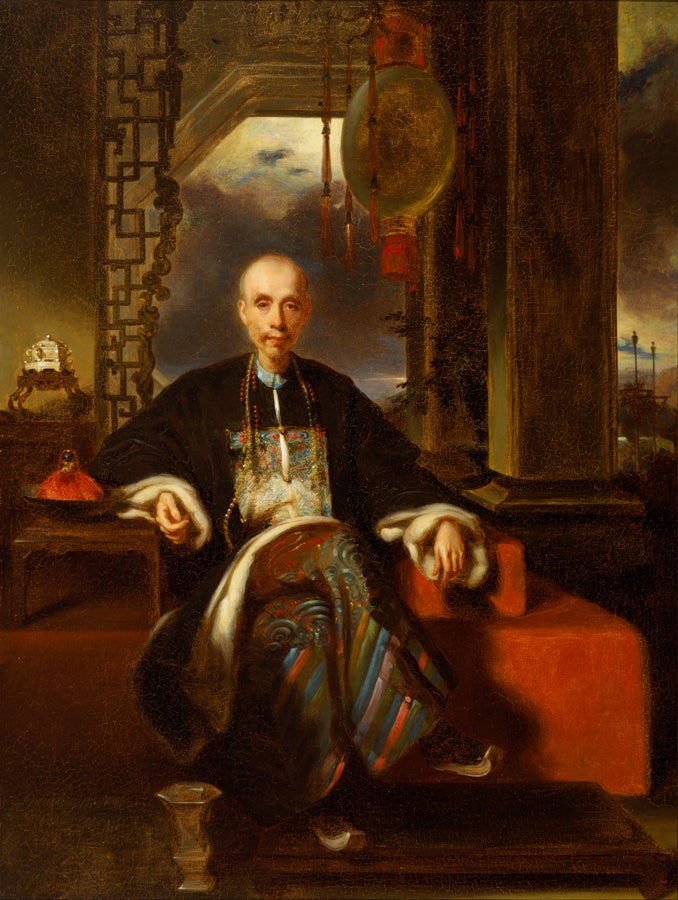 Wu Bingjian (1769–1843), also known as Howqua II, c. 1830
Guangzhou, China, oil on canvas, 29 1/4 x 23 1/4 in. (framed)
Gift of Rebecca B. Chase, Ann B. Mathias, and Charles E. Bradford, 1990
M23228
Howqua II (as he was known to Westerners), was one of the most important and senior Hong merchants in Canton and was a great friend of British and American merchants, in particular with the American Robert Bennet Forbes, whose steamer Spark can be seen in the view of Canton.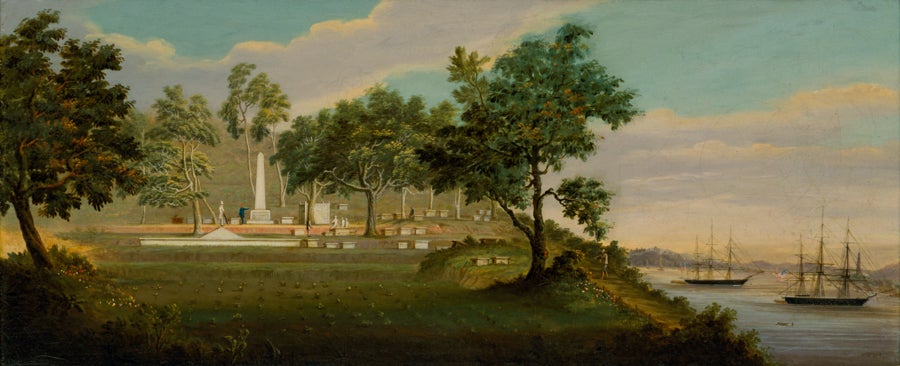 View of Dane's Island Foreign Cemetery, c. 1840
China, Sunqua (active 1830–1870), signed lower right
Oil on canvas, (sight) 13 5/8 x 32 1/2 in.
Peabody Essex Museum, Museum Purchase, M20543
Two American ships are at anchor near where all foreigners were buried. The obelisk is the monument erected for the Hon. Alexander H. Everett, the first United States Commissioner to China who died at Canton, June 28, 1847.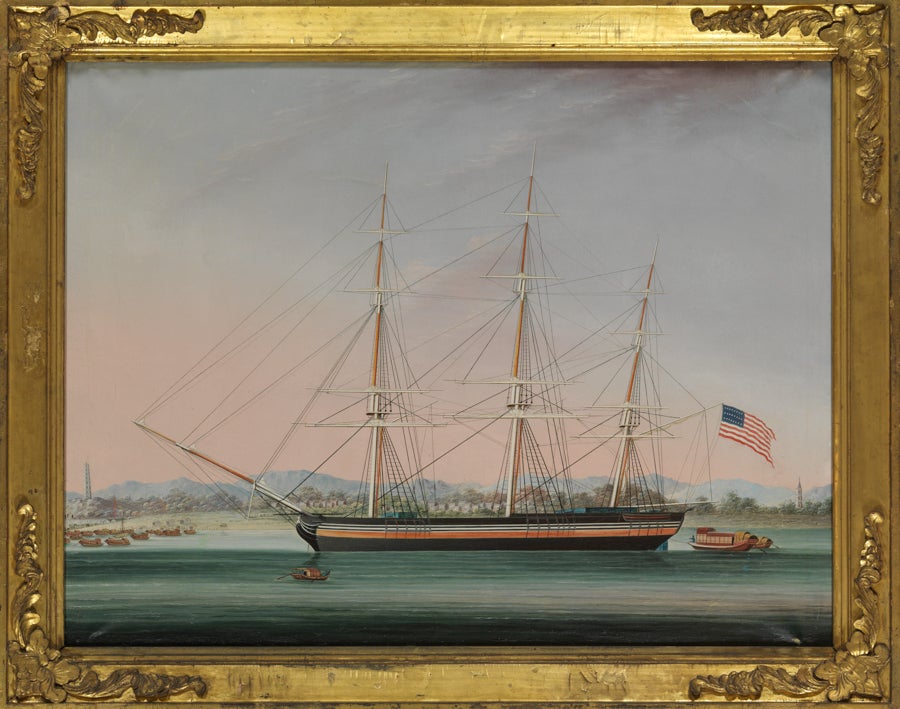 The ship Henry Tuke, c. 1850
China, unknown artist
Oil on canvas, 17 1/2 x 23 in.
Peabody Essex Museum, Gift, 1891, M160
The Henry Tuke was an American ship built in Medford, Massachusetts, in 1824. It is depicted at Whampoa Anchorage, about ten miles south of Canton, with the Whampoa pagoda seen in the distance. Until the Opium Wars all ships had to anchor here.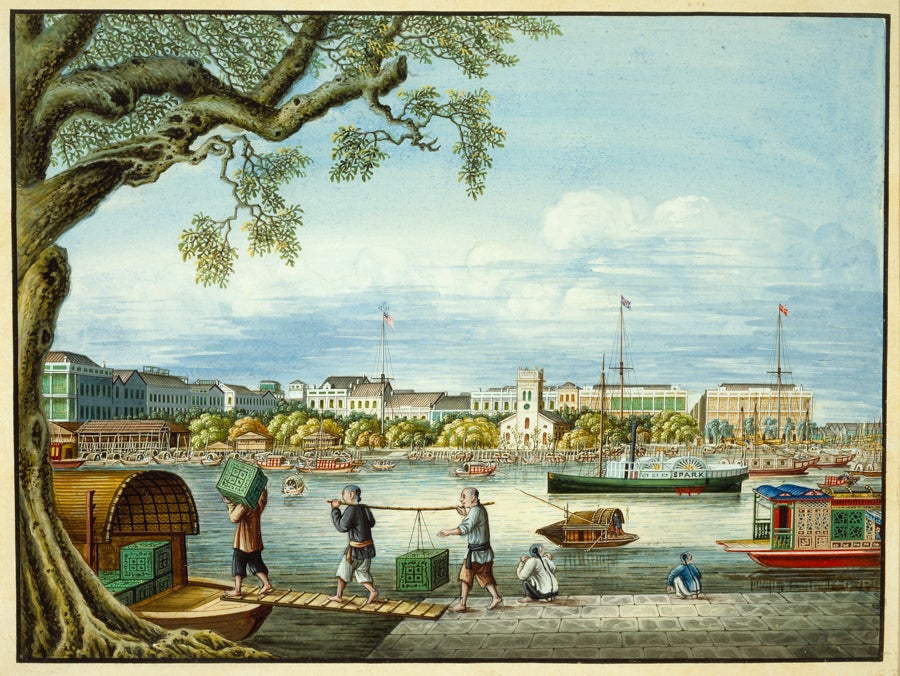 The Hongs of Canton, c. 1855
China, Tingqua (active 1840–1870s)
Gouache on paper, 7 ½ x 10 1/8 in.
Peabody Essex Museum, Gift of Miss Clara Curtis E82553
The Canton waterfront is depicted from Honam Island. The Protestant church seen on the waterfront was built in 1847 and burned with the Hongs in 1856. The steamer Spark was brought to Canton in 1849 by the American merchant Capt. Robert Bennet Forbes.
All photos courtesy of the Peabody Essex Museum.
For more read "America and the China Trade" in History Now 42: The Role of China in US History
Metadata
Make Gilder Lehrman your Home for History
---
Already have an account?
Please click here to login and access this page.
How to subscribe
Click here to get a free subscription if you are a K-12 educator or student, and here for more information on the Affiliate School Program, which provides even more benefits.
Otherwise, click here for information on a paid subscription for those who are not K-12 educators or students.
Make Gilder Lehrman your Home for History
---
Become an Affiliate School to have free access to the Gilder Lehrman site and all its features.
Click here to start your Affiliate School application today! You will have free access while your application is being processed.
Individual K-12 educators and students can also get a free subscription to the site by making a site account with a school-affiliated email address. Click here to do so now!
Make Gilder Lehrman your Home for History
---
Why Gilder Lehrman?
Your subscription grants you access to archives of rare historical documents, lectures by top historians, and a wealth of original historical material, while also helping to support history education in schools nationwide. Click here to see the kinds of historical resources to which you'll have access and here to read more about the Institute's educational programs.
Individual subscription: $25
Click here to sign up for an individual subscription to the Gilder Lehrman site.
Make Gilder Lehrman your Home for History
---
Upgrade your Account
We're sorry, but it looks as though you do not have access to the full Gilder Lehrman site.
All K-12 educators receive free subscriptions to the Gilder Lehrman site, and our Affiliate School members gain even more benefits!