Bartolomé de Las Casas debates the subjugation of the Indians, 1550
A primary source by Bartolomé de Las Casas
View this item in the Collection.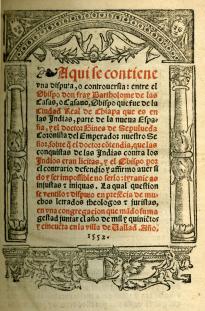 This tract, a summary of debate concerning the subjugation of Indians, contains the arguments between Bartolomé de Las Casas, the Bishop of Chiapas, Mexico, and Juan Gines Sepulveda, an influential Spanish philosopher, concerning the treatment of American Indians in the New World.
Las Casas came to Hispaniola, in the Caribbean, in 1502 with a land grant, ready to seek his fortune. A Dominican priest nurtured Las Casas's interest in the priesthood as well as his sympathy toward the suffering of the native inhabitants. In 1509, Las Casas renounced his land grant, released his slaves, and returned to Rome to take his religious vows. He returned to Hispaniola in 1512 as the first ordained priest in the Americas and denounced the Spanish exploitation of the Indians and the military conquest of the New World.
His efforts to end the encomienda system of land ownership and forced labor culminated in 1550, when Charles V convened the Council of Valladolid in Spain to consider whether Spanish colonists had the right to enslave Indians and take their lands.
Sepulveda argued against Las Casas on behalf of the colonists' property rights. Sepulveda rationalized Spanish treatment of American Indians by arguing that Indians were "natural slaves" and that Spanish presence in the New World would benefit them.
Citing the Bible and canon law, Las Casas responded, "All the World is Human!" He contradicted Sepulveda's assertions that the Indians were barbarous, that they committed crimes against natural law, that they oppressed and killed innocent people, and that wars should be waged against infidels. Las Casas managed to convinced the theologians at Valladolid that the Spanish policy was unjust and had to change. However, his victory had no impact on the colonists, who continued to enslave American Indians. Las Casas has been called the "father of anti-imperialism and anti-racism," and he greatly influenced the drive to abolish the Spanish encomienda system.
An English transcript of this pamphlet is available.
Questions for Discussion
Full content is available to our community and Affiliate School members only. To view it, please apply for your school to be an Affiliate School, sign up to be a community member, or log in.
Metadata
Make Gilder Lehrman your Home for History
---
Already have an account?
Please click here to login and access this page.
How to subscribe
Click here to get a free subscription if you are a K-12 educator or student, and here for more information on the Affiliate School Program, which provides even more benefits.
Otherwise, click here for information on a paid subscription for those who are not K-12 educators or students.
Make Gilder Lehrman your Home for History
---
Become an Affiliate School to have free access to the Gilder Lehrman site and all its features.
Click here to start your Affiliate School application today! You will have free access while your application is being processed.
Individual K-12 educators and students can also get a free subscription to the site by making a site account with a school-affiliated email address. Click here to do so now!
Make Gilder Lehrman your Home for History
---
Why Gilder Lehrman?
Your subscription grants you access to archives of rare historical documents, lectures by top historians, and a wealth of original historical material, while also helping to support history education in schools nationwide. Click here to see the kinds of historical resources to which you'll have access and here to read more about the Institute's educational programs.
Individual subscription: $25
Click here to sign up for an individual subscription to the Gilder Lehrman site.
Make Gilder Lehrman your Home for History
---
Upgrade your Account
We're sorry, but it looks as though you do not have access to the full Gilder Lehrman site.
All K-12 educators receive free subscriptions to the Gilder Lehrman site, and our Affiliate School members gain even more benefits!