Submissions for this form are closed.
First Fridays at the Gilder Lehrman Collection
Join us on March 3, 2017, from 5:30 p.m. to 6:30 p.m. to explore documents relating to Women's History Month and two famous examples of Revolutionary War propaganda. Learn the fascinating stories behind the documents and enjoy a glass of wine while you chat with our curators and other educators.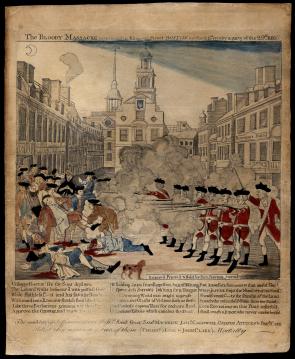 Our featured document this month is Paul Revere's Boston Massacre print.
Other highlights will include
A British propaganda print, "The Bostonians Paying the Excise-man or Tarring and Feathering"
A letter from Lucy Knox to her sister about how the Revolutionary War is tearing families apart
A corn cob slave doll
A letter from Eleanor Roosevelt setting out the four basic rights of every citizen
Please join us for this unique opportunity to experience American history up close.
This is a free program.
For more information, please contact Beth Huffer at 646-366-9666 ext. 38 or [email protected].
Space is limited to 40 people.
The event is currently at capacity.
If you would like to be added to the wait list, please e-mail [email protected]