First Fridays at the Gilder Lehrman Collection
Join us on April 7, 2017, from 5:30 p.m. to 6:30 p.m. to explore documents relating to the Civil War, the sinking of the Titanic, and the Civil Rights Movement. Learn the fascinating stories behind the documents and enjoy a glass of wine while you chat with our curators and other educators.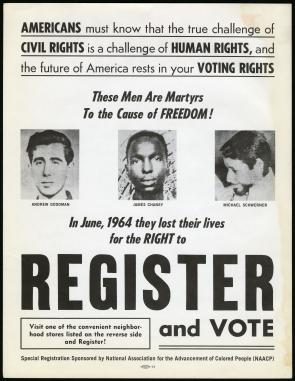 Our featured document this month is a newly acquired Civil Rights poster.
Other highlights will include
A Civil War soldier's diary and letter about the brutality of Gettysburg and its aftermath
A survivor's description of the sinking of the Titanic
19th-century photographs of Yellowstone National Park
Please join us for this unique opportunity to experience American history up close.
This is a free program.
For more information, please contact Beth Huffer at 646-366-9666 ext. 38 or huffer@gilderlehrman.org.
Space is limited to 40 people.
If you cannot attend the presentation, you can watch the livestream video here. If you missed last month's presentation, you can catch up here.
---
Sign up here