First Fridays at the Gilder Lehrman Collection
Join us on February 3, 2017, from 5:30 p.m. to 6:30 p.m. to explore documents relating to Black History Month, Valentine's Day, and Abraham Lincoln's birthday. Learn the fascinating stories behind the documents and enjoy a glass of wine while you chat with our curators and other educators.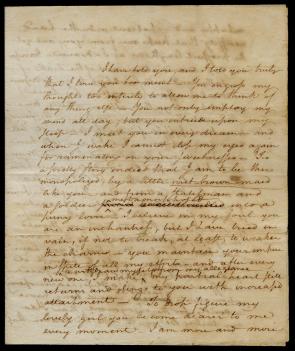 Our featured document this month is a love letter from Alexander Hamilton to Elizabeth Schyuler (It would make John Adams blush!).
Other highlights will include
Receipt acknowledging the final payment for land ceded by the Six Nations in 1769
Document from the Constitutional Convention concerning a fugitive slave clause
Document certifying the freedom of an African American who served in the Continental Army
Early "love" letter from Abraham Lincoln
Confederate soldier Gustave Cook shows us what not to write to your wife
Please join us for this unique opportunity to experience American history up close.
This is a free program.
For more information, please contact Beth Huffer at 646-366-9666 ext. 38 or [email protected].
Space is limited to 40 people.
Sign up here