Current Criteria
›› Coverage People : Andrew J. Russell
Showing results 1 – 3 of 3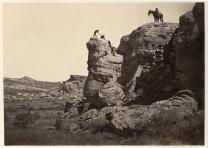 Primary Source
The exploration and settlement of the American West coincided with the development of the medium of photography. Photographic images, reproduced in books and newspapers and available for purchase on their own, helped shape Americans' perceptions of the West by reinforcing ideas about the region as a pristine wilderness of spectacular natural wonders; as a symbol of the future and the realization of manifest destiny; and as a land of economic opportunity, where fortunes could be made by extracting natural resources.
Andrew J. Russell...
Teaching Resource
Objectives
Students will
examine, explain, and evaluate a variety of literary and visual primary sources that describe and depict the development and impact of railroads on sectional relationships, national unity, and economic growth during the nineteenth century. analyze and assess eyewitness accounts, a notable photograph, and two maps of railway routes. read, discuss, and draw conclusions about the text and major concepts. make a sound response to one of several possible "essential...