Current Criteria
›› Coverage Organizations : Independent Party
Showing results 1 – 3 of 3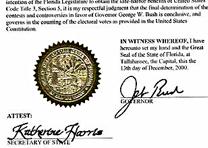 Glossary Term – Event
Democratic nominee and Arkansas governor Bill Clinton won the presidential election over incumbent Republican George H. W. Bush and Independent candidate Ross Perot. Though Bush had used the success of the Persian Gulf War as a campaign point, Clinton's focus on the economy propelled him to the win.
Glossary Term – Person
Ross Perot (1930– ) is a wealthy Texas businessman who ran as an independent candidate against Democrat Bill Clinton and Republican incumbent George H. W. Bush in the presidential election of 1992. Perot spent about $65 million of his own money on his campaign and appealed to Americans disenchanted with party politics. He built his candidacy around fiscal reform and the elimination of the deficit. In the election, Perot won almost 19 percent of the popular vote.