Current Criteria
›› Coverage Organizations : Choctaws
Showing results 1 – 3 of 3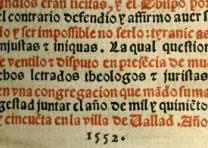 Essay
The story of European colonialism in the Americas and its victimization of Africans and Indians follows a central paradigm in most textbooks. Indians are described in terms of their succumbing in large numbers to disease, with the survivors facing dispossession of their land. This paradigm—a basic one in the history of colonialism—omits a crucial aspect of the story: the indigenous peoples of the Americas were enslaved in large numbers. This exclusion distorts not only what happened to American Indians under colonialism, but also points to the need for a reassessment of the foundation and nature of European overseas expansion.
Glossary Term – Event
The Choctaw Indians entered into a long alliance with the French, ca. 1700. The Choctaws, engaged in a long war with the Chickasaws, used the alliance to shape French policy in Franco-Indian relations and in decisions about settlement. The French benefited from the alliance when the Choctaws helped defeat the Natchez, who had resisted French incursion.