Current Criteria
›› Coverage Events : Peace of Paris
Showing results 1 – 3 of 3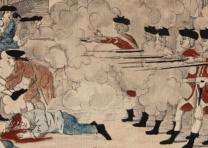 Essay
With an introduction by Pauline Maier, William R. Kenan, Jr., Professor of American History, Massachusetts Institute of Technology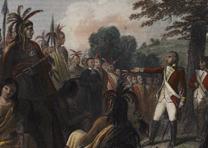 Essay
Most Indians tried to stay neutral in what they saw as a British civil war. Even when, eventually, most sided with the British, they were not fighting against freedom; like the American patriots, they fought to defend their freedom as they understood it. In Indian eyes, aggressive Americans posed a greater threat than did a distant king to their land, their liberty, and their way of life. The American War of Independence was an Indian war for independence as well.
Glossary Term – Event
Half a century of conflict between Britain and France over North America culminated in the French and Indian War, or the Seven Years' War in Europe. Unlike the three previous Anglo-French wars, which were outgrowths of European conflicts, this one began with colonial initiatives. Fur traders and Virginia planters were interested in exploiting and developing the Ohio River valley region. The French, determined to secure the territory against encroaching British and American traders and land speculators, built a chain of forts along...