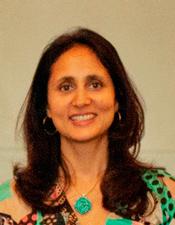 Shaiza Rizavi is a partner at Gilder, Gagnon, Howe & Co. Since joining the firm in 1996, she has managed a portfolio of global securities by coupling traditional best practices and innovative approaches in her stock picking.
After earning her BA from Vanderbilt University and before going on to her MBA at Columbia Business School, Ms. Rizavi worked in Mexico, raising awareness of best sanitation practices, and in Southeast Asia, analyzing opportunities for global replication of successful youth development programs.
She continues her community service as a member of the Advisory Board of the Social Enterprise Program at Columbia Business School and the Grants Committee of the Heart and Soul Foundation. She is also a Trustee of the Calhoun School, and a member of both the Economic Club of New York and the Advisory Council of the American Museum of Natural History.
Ms. Rizavi lives on the Upper West Side of Manhattan with her husband, Jonathan Friedland, and their four children. With them, she shares her enthusiasm for a range of activities—from hiking and biking to photography and classical music.